Title:
Like Moths Upon Old Scarves
Author:
soncnica
Rating:
PG-13
Genre/Pairing:
Sam, Dean, gen, OFC
Wordcount:
cca. 4.000
Summary:
A witch, a Sam, a poison and a cure. Dean sure has his hands full.
Warnings:
Season 3, hurt!Sam, H/C, witches&poisons&potions, blood&gore, old fashioned hurt/comfort story
Disclaimer:
I seriously only own the grammar/spelling mistakes. Everything else is NOT MINE! ALL IS FICTION.
A/N:
I received an incredible present for my birthday this year. My wonderful friend
Mystic25
made me a book - she took this story, made art for it, binded it all and send it to me. When I opened the package, I was just blown away. Just incredible. So I asked her if she was okay with me posting the story with the art she made and she said she's cool with it. YAAAAY :) So all the art in this story was made by
Mystic25
, and I love it, because apart from being black&white it has this grotesque feel to it that I just adore.
The title comes from a Panic At The Disco song called ''Northern Downpour''. The story was first written in 2009 & posted on fanfiction.net. It was written for a prompt: ''pour something into Sam''. Heh. There's a remix of the story, written by Mad Server over
HERE!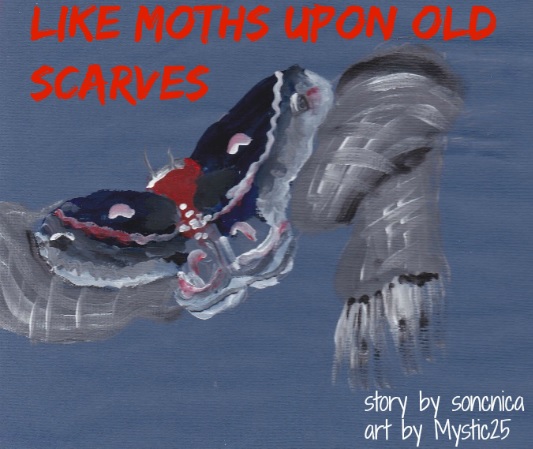 ( Like Moths Upon Old Scarves )